The Best Tools to Manage Your Web Design Agency
July 19th
Offsprout is the only WordPress website builder for freelancers and agencies.
If you were going to start a web design or digital agency tomorrow, what tools would you use to manage everything?
How would you take care of payroll?
Project management?
CRM?
Help desk?
We spent years finding all of the right tools for our web design agency.
With the knowledge we've gained over these years, we'd love to save you some time.
Last week, we wrote up a guide on the best WordPress plugins for managing your web design agency. Now it's time to dive into the best software and tools outside of WordPress that can help you better manage your web agency.
This in-depth guide breaks down all the vital tools to manage a web agency and our recommended software picks for you.
HR and Payroll for Web Agencies
When you start to hire a team, you need the right tools to be able to pay them, collect taxes, offer benefits, manage their schedule, and manage their time off.
How are you going to pay your people?
When our agency made our first full-time W-2 employee hire, we needed to be able to pay people the right way – on the books, collecting taxes, taking care of benefits and time-off.
We used, and still use to this day, Gusto.
Gusto
Gusto, formerly known as ZenPayroll, manages everything payroll-related. With Gusto, you can:
Set your employee's wages
Pay employees at regular intervals via bank direct deposit
Set time-off days that accrue over time
Log time off
Pay bonuses
Pay commissions
Pay contractors
Connect with health insurance and other benefits
Automatically file all your payroll-related tax forms
Integrations with your accounting software
The best things for me with Gusto were the fact that 1) All taxes are taken care of automatically; and 2) all tax forms are automatically filed with the IRS at the end of each month / quarter / year as needed. There is nothing you need to do. You just set it and forget it.
Really, the only thing you need to do with Gusto is connect your bank account, add employees and their salaries, and Gusto takes care of the rest. Gusto also integrates seamlessly with accounting software. If you use Xero or Quickbooks, Gusto sends your payroll entries to your accounting platform.
Gusto is not expensive either for everything it does for you. The amount of time it saves that would otherwise have to be spent manually figuring everything out is a big win.
Project Management for Web Agencies
When you start to build a volume of web design and marketing projects, you will need software to keep track of them.
You will need to be able to know what stage things are in, who on your team is responsible, what your deadlines are, what conversations have been had with the client, and what the next to-do items are.
We have previously written in great length about the best project management tools for web design agencies.
But, we have two favorites in particular to recommend.
If you are just doing website design projects and logo designs, something like Trello would be perfect for you.
If you are doing services with ongoing components, like recurring marketing, we would recommend Podio.
First, Trello.
Trello
Trello is incredibly easy-to-use project management software that helps you manage all of your projects in a simple interface.
Though it has a simple look, Trello works great.
It lets you create columns of different project phases. With your different phases, you can see from a bird's-eye-view of how many projects you have in which stages. Trello also lets you create and manage individual project cards. On each card, you have your project information, client information, notes, due dates, attachments, and team project manager.
With Trello, everyone on your team can know which projects they have to work on, when they are due, and what tasks are next to-do.
Trello has some other great features as well:
Filtering and search so you can find your assigned projects
Calendar so you can see your projects by due date
Zapier integration so you can further customize Trello
And, Trello starts out free.
If you want the basic features of Trello, it costs nothing. For most users, you will probably not need the paid features of Trello.
Even though it's a free product, it is more powerful and user-friendly than many of the costlier apps out there.
Podio
If you have recurring projects in your web agency, such as ongoing SEO, paid advertising campaigns, or other marketing, you need a project management tool that can create recurring project items. For this, we recommend Podio.
Fair warning: Podio requires a good amount of set-up. It will not be ready to use out of the box.
But, Podio is extremely customizable. You can make Podio do whatever you want.
Podio is like the Salesforce of project management tools. It can do everything you can imagine; you just need to configure it.
In our agency we used Podio to not only manage our design projects (in Podio we created a Trello-like board that worked similarly to Trello), we also had a separate workspace for clients with different services like digital marketing.
Here are Podio's killer features:
Automations – no need to duplicate or clone projects or tasks; Podio's integration with Globiflow lets you create automated if-this-then-that sequences, workflows, task creation, and more
Customization – if you want a certain layout, custom fields, you could create it
A hub for your agency – If you want, you could get rid of a lot of your apps and use Podio for everything – CRM, sales management, help desk, team chat and internal communication
There is one drawback to note for Podio. Their support team is not amazing. It took awhile when I needed assistance trying to customize my Podio workspaces. The best help I got was from other Podio user forums.
Teamwork
Teamwork is a powerful project management platform that is feature rich, yet is easy to use and boasts an intuitive user interface. It is trusted by tens of thousands of users worldwide such as web design agencies, project managers, business owners and many, many more.
It has some killer features for web design agencies like
time tracking, multiple view and format live project tracking, and individual team member workload management.
Here are some other great features:
Simple to use, powerful when you need it

Manage multiple complex projects with ease

Scales into a platform with everything you need to run your company

Time Tracking

Workload Management

Client Permissions Management

Team Chat

Gantt Charts

Software Integrations

Fantastic customer support
Its client permissions feature is where web design agencies will see the most potential, Teamwork has free client users, which will help keep costs down and also allows web design agencies to manage permissions and access of clients to things such as invoicing and time tracking which could be a real sell to potential clients.
Help Desk Software for Web Agencies
As your agency grows and has clients that you are providing ongoing, recurring support and maintenance for (which you absolutely should; no client of yours should be a "one-and-done" site design), you will need a help desk.
Whether you have one person or ten people on your team working with clients, help desk software helps you better manage, track, and complete your support tickets and keep your clients happy.
Help Scout
Our recommended help desk tool is Help Scout. Help Scout is incredibly simple and straightforward. Of all the help desk tools we tried, we liked it the best because of how easy to use it was. Setting up was a breeze. Adding new help agents is also very easy. Here are some of the best core features of Help Scout:
Ticket assignment – Send support tickets to different agents
Mobile app – Answer help tickets from anywhere
Traffic control – triage support tickets and keep other agents out from working on tickets you are actively working on and sending messages to
Integrations – Integrate Help Scout with your CRM app so you can see clients' activity
Documentation – create a documentation library so you can share help docs with your customers
Live Agent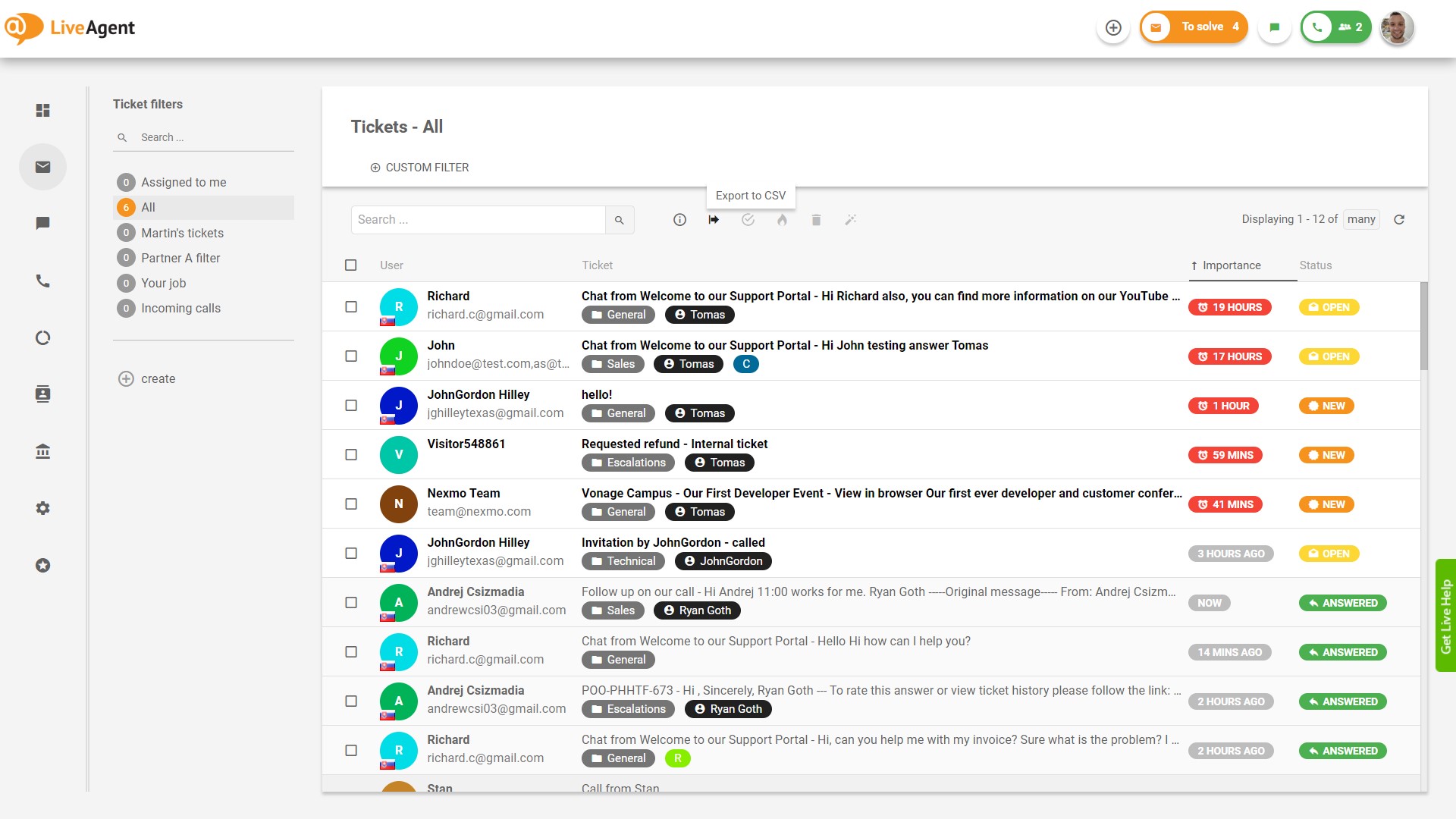 Another great option is Live Agent.
Live Agent integrates with many different channels. So, you have a way to respond to support requests via:
Social meda platforms
Emails
Phone calls
Forums
Contact forms
Feedback requests
Its strength is its incredible versatility in managing your customer support across all the channels that you use to connect with your customers and users.
CRM
Foolishly, our agency did not get a CRM right away.
It was probably six months of sales management before we implemented a CRM.
In hindsight, it was a big mistake. The second we had our first potential client, we should have gotten a CRM.
A CRM helps you manage all of your customers and your sales pipeline.
CRMs help you track your different marketing campaigns' effectiveness.
CRMs also help you track your sales team's stats.
Most importantly though, a CRM helps you sell. With a CRM, you have a dashboard for your salespeople. In a CRM you know that, for example, "Today, I have to reach out to Joe Smith to follow up on the proposal I sent him three days ago."
A CRM tracks each deal in your pipeline, the status, your prospect's contact information, what the last activity was, when your next activity due date is, and what notes you have about this sales opportunity.
We also wrote an in-depth guide with recommendations for the best CRMs for web agencies.
There are a lot of CRMs out there. Some of them do the basics well. They can:
Track and manage sales opportunities
Keep sales stats
Send reminders for activities
But, there are also more robust CRMs that do even more. The highest-end CRMs basically do fully-functional marketing automation. This includes things like email marketing with drip campaigns, landing page hosting, social media management, and CRM. Those apps can be overkill if you don't need them though.
My pick as the best CRM for most web design agencies is Pipedrive.
Pipedrive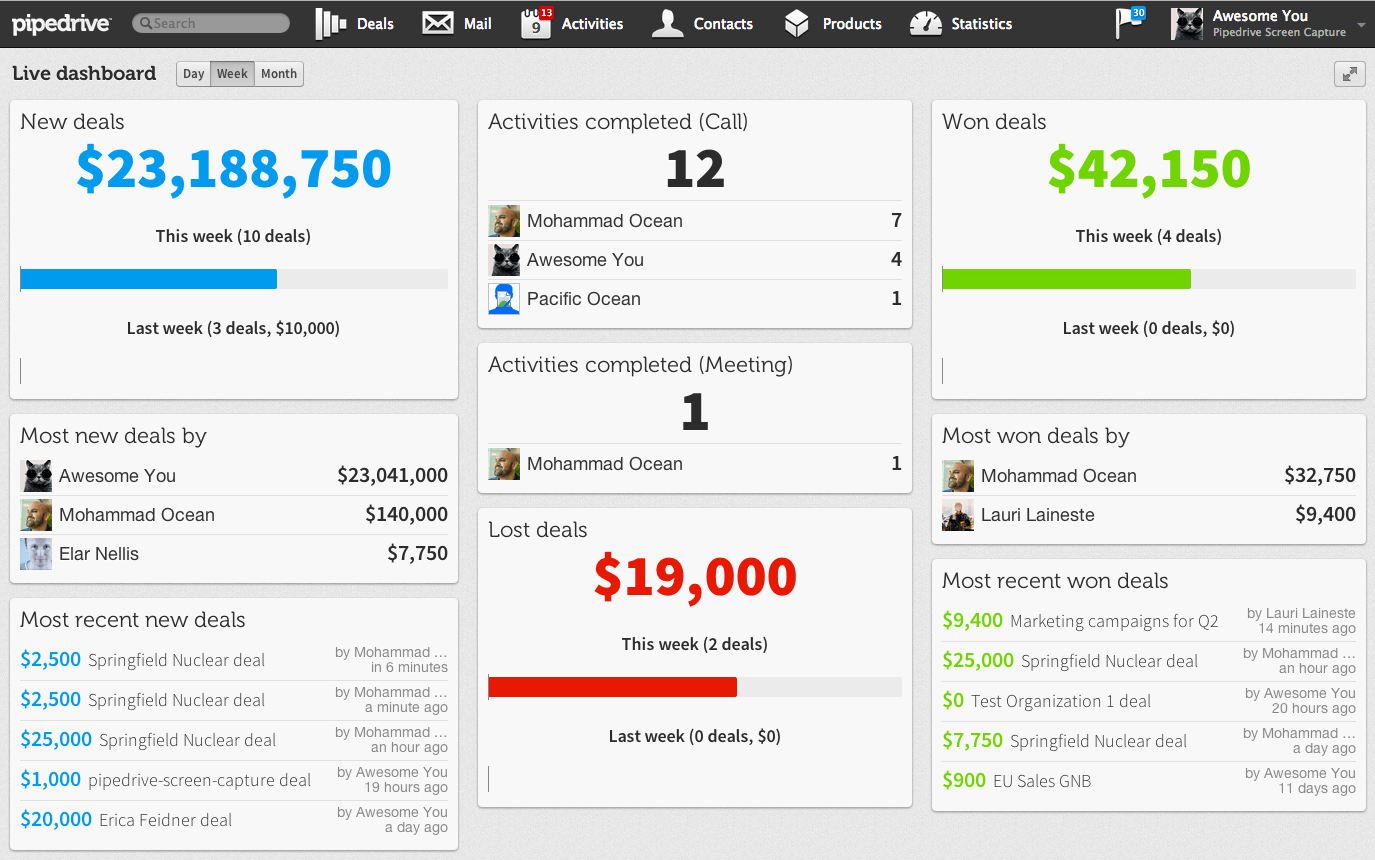 Our web design agency chose Pipedrive after vetting several different CRMs.
I liked Pipedrive best because it was a no-frills, straightforward CRM. It lets you:
Track the status of your sales opportunities
Manage your sales team and their deals
Know what sales tasks you have to do today
Organize your notes on your opportunities
See what activities you have done with any given sales opportunity
Integrate with other third-party apps your agency uses
Send emails from the platform
It has everything you need at the basic level (no marketing automation features though). And, it integrates with other apps you might use.
Bookkeeping and Accounting for Web Agencies
As part of running an agency, you need to get paid for your work and pay taxes.
The getting paid part is great. The paying taxes part, not so much.
For web agencies, you need software that helps you get paid for your services, but also:
Tracks your revenue and expenses
Generates reports on your income statements and balance sheets
Manages your bank accounts
Reconciles your bills with your bank and credit card statements
Generates invoices
Integrates with your bank and credit card feeds
Integrates with payment processing like Paypal and Stripe
The software we recommend for accounting and bookkeeping is Xero.
Xero
Xero is fully cloud-based accounting and bookkeeping software that helps you manage your web agency's finances. It helps you:
Reconcile bank and credit card statements
Create invoices and get paid by integrating with payment processing software
Easily see your cash flow, profit and loss, and financial statements
It is fairly simple to use, whether or not you have any background in accounting.
Before going with Xero, I tried a few others. I found Freshbooks to be a bit too simple, and less-featured on the accounting aspects. Quickbooks was not as user-friendly. Xero had the right balance of user-friendliness with the features that I needed.
Conclusion
If there are any other aspects of running a web agency that you would like recommendations for, feel free to ask in the comments section below.
Free 14-day trial. Easy setup. Cancel any time.
get everything for only $9/month
Offsprout was founded by two former college freshman roommates. Drawing from their experience building their web design business, JurisPage, which was acquired in 2016, Offsprout is singularly focused on being the best white label website building tool for web design businesses.